In the 60s, Mr Corp was the Head teacher in the Juniors and Mr Parry was the Deputy Head. The boys and girls played in separate playgrounds and ball games, just like now-a-days, were very popular. Children could listen to radio broadcasts during the day and Peter Huckle (1961-1967) remembers an emphasis on poetry and drama.
"Those that had forgotten their gym kit had to play in their UNDERWEAR!"
Nichola Woodacre recalls that the Infants and Junior school had no school uniform, but the Senior school girls had a grey skirt, white blouse, blue jumper and blue school tie. The boys wore grey trousers, white or grey shirt, blue jumper and tie and blazer with the school badge.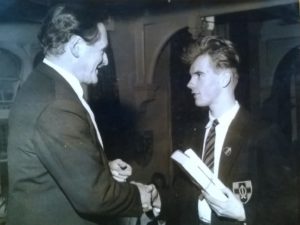 "I sometimes had school dinners but they weren't very appetising , but I did enjoy writing out the menus every day in Italic script."